Logitech K830 Wireless Illuminated Keyboard
I have been debating on a Logitech K400 keyboard but the inability of seeing the keys in the dark was a deal breaker for me. I run across this model at a display at Best Buy for $100. I picked this keyboard up about ten days ago as a refirb from Newegg for $55. shipped
Attachment: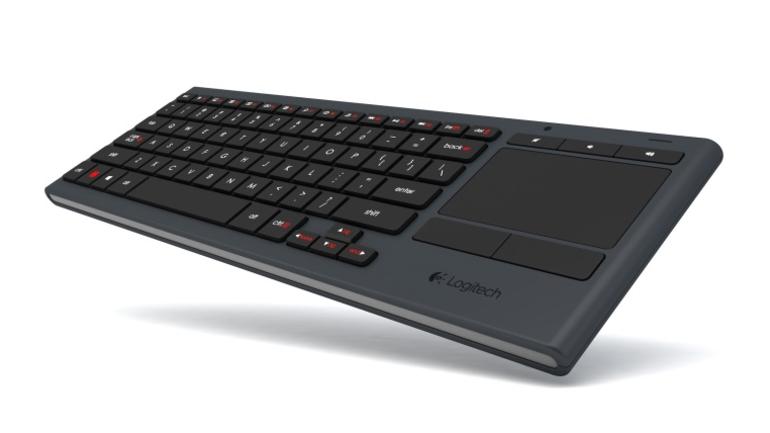 logitech-k830.jpg [ 21.87 KiB | Viewed 11094 times ]
Size wise this is 1/2" longer than the K400 but it also is 1/2 narrower in width. The Illuminated keys work well with a photo sensor that detects ambient light in the room and automatically sets the intensity of the back light 0%, 50%, 100%. The back-light will stay on for 7 seconds after keyboard or touch pad movement (my stop watch). The time period is not adjustable as far as I can tell. The red markings for use with the function keys can not be seen in the dark. It has a rechargeable battery (Don't know How i feel about that) that is recharged from a usb connection. There is a green LED in the right hand top corner that flashes during charging and remains solid when charged. The mfg says that is should last ten days in standby mode before recharge but it dos have a On / Off switch on the right hand top corner and I just shut it off. The Touch pad is 2" x 3" wide and is flush with the surface not recessed like the K400. The K400's pad is 1/2" wider. The keys do have that tactical feel to them. Build quality is really good. What was included in the box is a 2 foot miniature USB cable (for charging), 5 foot USB extension cable (for the receiver) with a end that is shaped to be attached with adhesive tape, and the Unifying Receiver. Ranged is good. I am sure it's 33 feet and then some.
Now the million dollar question dos it work with LinHES? On R7.4 just plug in the receiver and reboot. My guess is that all the keys that work for the K400 work on the K830. Most of the keys on the top row need to be remapped to be functional for LinHES. One of the keys I would like to see remapped is the "Windows Start" key to the "m" or Mythtv menu key. It then would be the same as the "Windows Start" button remap on the MCE Remote control.
Top Row of keys Media shortcuts.
Red is with Function key pressed
--------
Blue is (White Illuminated keys) that work out of the box for LinHES
Esc
F1
-
Manual back-light settings. Cycle through: 0%, 50%, 100%.
F2, F3, F4
- Minimize, maximize or close windows. (don't push unless you want to reboot)
F5
- Project screen on TV.
F6
- Show desktop
F7
- Search
F8
- Launch Web browser
F9
- Launch Media player
F10, F11, F12
- Previous track, Play/pause or Next track, pause
Swap Windows
ins
PC Power On
del
Mute
Volume down
Volume up
TVBox